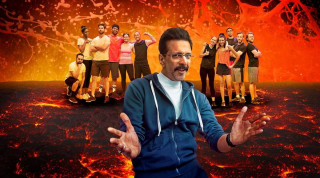 Plot
An obstacle game show, a room filled with literal lava and Jaaved Jaaferi's commentary. Lava Ka Dhaava​ is a dubbed adaptation of The Floor Is Lava, where teams compete to navigate rooms flooded with literal lava. Leaping from chairs, hanging from curtains, swinging from chandeliers, climbing the walls - it only gets MORE intense.
Lava Ka Dhaava is Hindi Comedy-Adventure web series with Jaaved Jaafferi and Rutledge Wood in the lead role. It is currently streaming at Netflix.
Where to watch season 1 of Lava Ka Dhaava online?
You can watch season 1 online here at
Netflix
.
Cast & Creator
The full cast of Lava Ka Dhaava includes Jaaved Jaafferi and Rutledge Wood. Rutledge Wood has also worked in shows Floor is Lava, Hyperdrive and Lost in Transmission. The creator of the show is not known at this time.
List of Episodes for Season 1
Episodes have not been released yet.