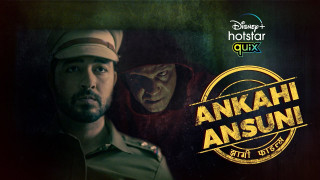 Ankahi Ansuni (2021)
| | |
| --- | --- |
| Release Date | 15 Jul 2021 |
| Season | 1 |
| Genre | Drama, History, Mystery |
| Language | Hindi |
| Platform | Disney+ Hotstar |
Plot
Demoted for misconduct, Umesh, an eccentric genius and the youngest inspector in the history of UP police, is posted to a fictional sleepy town Jhaagi. The town is known for unsolved crimes and mysterious sightings.
Ankahi Ansuni is Hindi Drama-History web series with Vibha Anand and Paresh Pahuja in the lead role. It is currently streaming at Disney+ Hotstar.
Where to watch season 1 of Ankahi Ansuni online?
Cast & Creator
The full cast of Ankahi Ansuni includes Vibha Anand, Paresh Pahuja, Swati Rajput, Vibhuti Upadhyay and Avtar Vaishnani. Vibha Anand has also worked in shows Yeh Hai Aashiqui and Laal ishq and movies like Yours truly Roohani. Paresh Pahuja has also worked in shows
Marzi
. The creator of the series is Gautam Parvi, who has also created shows
Ghar Set Hai
and
4 Thieves
and films like Love in the Time of Corona.
List of Episodes for Season 1
S1 E1
.
Jhaagi Ke Naye Daroga
Sub-inspector Umesh Kumar arrives in Jhaagi, startling everyone. The first case he takes up - three missing women rumoured to have succumbed to the curse of Raazi - the ghost town.
15 Jul '21
S1 E2
.
Sur Mein Hai Surag
Upon learning about the myth around the twin towns of Khaasa and Raazi, Umesh sneaks into the ghost town but is confronted by someone unexpected!
16 Jul '21
Umesh and Pyaare discover the corpse of a mysterious young man. As the crowd and the police turn on them for violating forbidden ground, Umesh chances upon a radical theory.
17 Jul '21