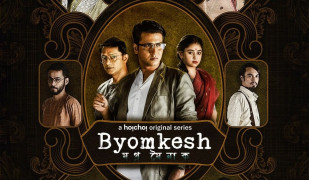 Plot
The time is 1930s, and crime is culminating. One man can uproot the sin: Satyanweshi Byomkesh Bakshi. Hoichoi Originals brings Bengal's popular sleuth in an all-new but familiar avatar.
Byomkesh is Bengali Crime-Mystery web series with Anirban Bhattacharya and Subrat Dutta in the lead role. It is currently streaming at Hoichoi.
Where to watch season 1 of Byomkesh online?
You can watch season 1 online here at
Hoichoi
.
Cast & Creator
The full cast of Byomkesh includes Anirban Bhattacharya, Subrat Dutta and Ridhima Ghosh. Anirban Bhattacharya has also worked in shows
Bou Keno Psycho
and
Paanch Phoron
and movies like Ek Je Chhilo Raja, Eagoler Chokh and Ghawre Bairey Aaj. Subrat Dutta has also worked in shows
Lalbazaar
and movies like Tevar, Roar: Tigers of the Sundarbans and Sameer. .
Other Seasons for Byomkesh
List of Episodes for Season 1
S1 E1
.
Satyanweshi Pother Kanta
Byomkesh disentangles himself as the truth-seeker, who with friend and writer Ajit uncoils the mystery behind the bizarre murders.
14 Oct '17
S1 E2
.
Makorshar Rosh Artham Anartham
Byomkesh is on one of his private missions with Ajit. As he decides upon setting his foot forward on a new journey, he meets Satyabati for the first time.
14 Oct '17