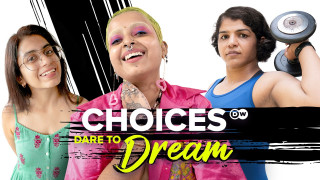 Choices: Dare To Dream (2022)
| | |
| --- | --- |
| Release Date | 18 Jun 2022 |
| Season | 1 |
| Genre | Reality-TV |
| Platform | Voot |
Plot
In India, young people are under intense pressure to have a successful career, financial stability and a good life. But if family expectations and pressure from society decide your life for you, what happens to your dreams? Can you choose a life path that reflects your own desires? What if you want to follow your passions instead? In India, anything is possible. Choices finds role models across the country who have created their own path and pursued their calling outside of societal norms. Follow young Indians who meet inspiring mentors that challenge them to live their fantasy, if only for a few days. Will this be a turning point in their lives?
Choices: Dare To Dream is Reality-TV web series with in the lead role. It is currently streaming at Voot.
Where to watch season 1 of Choices: Dare To Dream online?
You can watch season 1 online here at
Voot
.
Cast & Creator
The full cast of the Choices: Dare To Dream is not known at this time. There are fresh faces in the cast and no reference to any previous show or films is found. The creator of the show is not known at this time.
List of Episodes for Season 1
S1 E1
.
My Fight to Become a Wrestler
Against all odds, Payal Sharma wants to be a professional wrestler. But in her village, what she hears is, "Women don't do that!" Sakshi Malik also grew up in a small village. She pursued her dream of wrestling to become the first woman in India to win an Olympic medal. She brings Payal to her gym to teach her how to fight like a girl - and win.
18 Jun '22
Being queer can be dangerous in Delhi and doing drag in public even more - but this is Piyush's dream but he's nervous to show his true self. It could get him kicked out of his parent's home. Only when he's alone at home, he transforms into the drag persona Cologne Doll. Sushant?Divgikr has also experienced discrimination for being gay. As a drag queen named Rani KoHEnur, she wants to make Piyush resistant. She gives Cologne Doll the tools she needs to be a confident queen and an LGBTQ+ entertai
18 Jun '22
S1 E3
.
F*ck my banking career. I want to do standup comedy!
He has jokes and confidence but does Devansh Kotak have the courage to leave his 'safe' Mumbai banking job to try out a career in comedy? Professional comic Prashasti Singh left the corporate world years ago and with a new comedy special on Netflix, she's made it. Prashati gives Davansh a series of tests to decide if he should make the career change will he get laughs or get laughed-off stage?
18 Jun '22
S1 E4
.
I Want to Love My Body
Akanksha Sood Singh feels ashamed to look in the mirror. The successful filmmaker and mother of two loves her life but not her body. A flawless figure and unblemished skin - the Indian beauty standards of 'perfection' are unattainable. How can she escape that pressure? Photographer and activist Roshni Kumar knows how women can overcome body shame: empowerment and self-love. Roshni takes Akanksha on a journey to recognize her self-worth and love the skin she's in. Will she rise to the challenge?
18 Jun '22
S1 E5
.
Is This a Ticket to My Motherhood?
A high-powered job as a lawyer, a plentiful life- Anchal Chaudhary seems to have it all, but her biological clock is ticking. The single 35-year-old woman from Delhi is worried about the one thing she cannot control: time. Will she ever be a mother? Infertility specialist Dr Reubina Singh lets her know that she has choices. She gives Anchal information on egg freezing and what it means. Will freezing her eggs solve Anchal's problems? And what if her body is not up for the procedure?
18 Jun '22
S1 E6
.
Bye bye City- Hello Big Outdoors
Fed up with living in dirty Delhi, actor Chirag Malhotra dreams of starting over in nature. Can he support himself financially if he moves there? Muzammil Hussain used to be a city boy but 8 years ago, he left his safe job to start a tour company in the mountains of Kashmir. He gives Chirag a series of tests to see if he is ready for mountain life.
18 Jun '22