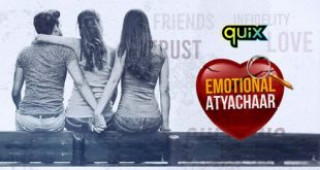 Emotional Atyachaar (2021)
| | |
| --- | --- |
| Release Date | 20 May 2021 |
| Season | 1 |
| Genre | Drama, Reality-TV |
| Language | Hindi |
| Platform | Disney+ Hotstar |
Plot

Emotional Atyachaar is Hindi Drama-Reality-TV web series with in the lead role. It is currently streaming at Disney+ Hotstar.
Where to watch season 1 of Emotional Atyachaar online?
Cast & Creator
The full cast of the Emotional Atyachaar is not known at this time. There are fresh faces in the cast and no reference to any previous show or films is found. The creator of the show is not known at this time.
List of Episodes for Season 1
S1 E1
.
Two Relationships, One Doubt
Belonging to different cities, strangers Rishi and Bhavita come together for a common reason - to investigate their partners. What will be the result of this unlikely alliance?
20 May '21
S1 E2
.
Valentine's Day Surprises
Monsoon is in a long-distance relationship with her boyfriend, Akash. However, her romantic surprise goes for a toss when she discovers his lie.
21 May '21
Apoorva's boyfriend and his friends plan a nasty set-up. Will she fall for their trap or pass the test of love?
22 May '21
Simran's ex-girlfriend reveals that one of his best friend's girlfriend is also cheating. Shocked, the gang decides to spy on their respective partners. Will a rumour win against loyalty?
23 May '21
S1 E5
.
When You Cheat a Nerd
Rishi suspects his girlfriend of cheating on him. He and his nerdy friends use forensics to get to the bottom of this. Can this gang of geeks expose the truth?
24 May '21
Rohan suspects his girlfriend when he finds a pregnancy termination receipt. He teams up with his friends to investigate her, unaware of the secret they are hiding.
25 May '21
S1 E7
.
Perfectly Imperfect Lovers
Trust is the anchor of any love story. But when both partners suspect each other and approach the same friends for help, who is the cheater?
26 May '21
S1 E8
.
A Bittersweet Graduation
Aishwarya discovers her boyfriend's betrayal on the day of her graduation party. She gets a bigger shock when she finds out his weird fetish.
27 May '21
Akhil doubts his girlfriend when he finds a suspicious gift box in her drawer. As he and his friends set out to find the truth, they make a startling discovery.
28 May '21
S1 E10
.
Just Neighbourly Duties
Mohak and his roommate find out their neighbour's illicit affair with a guy named Sahir, who is already in a committed relationship. Can they save the innocent girl from his deceit?
29 May '21
S1 E11
.
Shaadi Mein Barbaadi
Yogesh is getting married in the next 48 hours, but his friends are out to prove to him that his fiancée is unfaithful. Can they win against time?
30 May '21
Pinks is madly in love with Maddy in spite of his philandering ways. As she sets out to investigate the truth, an evil plan brews against her.
31 May '21
S1 E13
.
Greedy Girlfriend
When Dhavnil's suspicion about his girlfriend grows stronger, he and his friend Minakshi investigate the truth. What will win: love or friendship?
01 Jun '21
Ronit, an introvert, is alerted by his friends that his girlfriend, Anna, might be cheating on him. As his friends set out to investigate, can they find out the truth?
02 Jun '21
S1 E15
.
Season Finale: An Accidental Exposé
Anchal's world is shattered when her boyfriend meets with an accident. However, this incident unravels his true character. Can Anchal handle it?
03 Jun '21