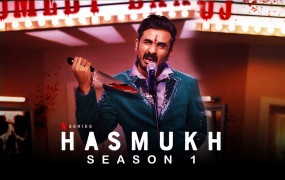 Plot
A shy comedian gets his big break but soon realises he needs to murder people in order to keep his mojo on stage.
Hasmukh is Hindi Comedy-Crime web series with Vir Das and Ranvir Shorey in the lead role. It is currently streaming at Netflix.
Where to watch season 1 of Hasmukh online?
You can watch season 1 online here at
Netflix
.
Cast & Creator
The full cast of Hasmukh includes Vir Das, Ranvir Shorey, Amrita Bagchi, Deeksha Sonalkar, Ravi Kishan and Manoj Pahwa. Vir Das has also worked in movies like Go Goa Gone, Delhi Belly and Badmaash Company. Ranvir Shorey has also worked in shows
Metro Park
and
Flip
and movies like Ek Tha Tiger, Khosla Ka Ghosla! and Chandni Chowk To China. .
List of Episodes for Season 1
S1 E1
.
Pakodey Thande The
After years of being denied a chance to open for his vile mentor, aspiring small-town comedian Hasmukh takes drastic action for a coveted turn onstage.
17 Apr '20
S1 E2
.
Ek Tha Azmat, Ek Thi Kismat
Hasmukh's past haunts him as he continues his vicious pre-show ritual. Amid scandal in Mumbai, TV executive Sinha seeks new talent for his comedy show.
17 Apr '20
Newly discovered by Alpha TV, Hasmukh is brought to Mumbai. As Jimmy's confidence swells after a successful meeting, Rhea offers a word of caution.
17 Apr '20
S1 E4
.
Bambai Main Bambu
A betrayal against Hasmukh is thwarted. At a party, Jimmy spots their potential next victim. Ahead of his performance, Hasmukh faces an unexpected snag.
17 Apr '20
The initial Comedy Baadshaho results spark surprise and anger. A sudden death raises suspicions. A meeting with don Jameel Indori inspires Hasmukh.
17 Apr '20
S1 E6
.
Hum Acche Aadmi Nahin Hain
As the police question Hasmukh and Jimmy, Promila steps in. KK receives a threat from Indori. Hasmukh makes a potentially disastrous confession.
17 Apr '20
S1 E7
.
Machalte Huye Hormones
After another death, planted evidence leads the police to Indori. When movie star Rahul Kapoor arrives to judge the show, Hasmukh seizes an opportunity.
17 Apr '20
Following a mishap with Kapoor, Hasmukh is blindsided when his act is stolen and performed by his rival. Left to perform without a script, he goes rogue.
17 Apr '20
S1 E9
.
Ek Writer Ki Maut
Low on morale, Jimmy shuts Rhea out. Naik makes a discovery about Hasmukh's ex-mentor. Ajinkya tries to prove his loyalty to KK, with tragic results.
17 Apr '20
S1 E10
.
Sab Samay Ka Khel Hai
Hours before the show, Jimmy and Hasmukh catch up to Ajinkya, and Hasmukh's past catches up to him. Hasmukh and KK go head-to-head in a shocking finale.
17 Apr '20