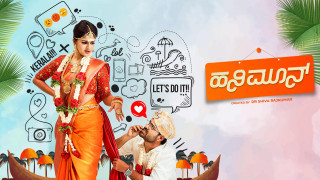 Plot
A newly married couple struggles to celebrate their honeymoon amidst unexpected events and twists!
Honeymoon is Kannada Drama-Romance web series with in the lead role. It is currently streaming at Voot.
Where to watch season 1 of Honeymoon online?
You can watch season 1 online here at
Voot
.
Cast & Creator
The full cast of the Honeymoon is not known at this time. There are fresh faces in the cast and no reference to any previous show or films is found. The creator of the show is not known at this time.
List of Episodes for Season 1
S1 E1
.
Praveen weds Tejaswini
After his marriage with Tejaswini, Praveen is excited about his wedding night. Praveen's enthusiasm is put to halt when Tejaswini is left disheartened learning about their honeymoon destination.
13 May '22
S1 E2
.
Praveen gears up for honeymoon
While Praveen is all excited about his honeymoon, Tejaswini joins him unenthusiastically. As the couple reach their honeymoon destination, a shocker awaits Praveen.
13 May '22
S1 E3
.
Praveen is devastated
Praveen is devastated as Tejaswini leaves him in the middle of their honeymoon. Further, Praveen starts looking for Tejaswini around the city and finally finds her back in their cottage.
13 May '22
S1 E4
.
Praveen-Tejaswini's romantic dinner
Tejaswini and Praveen go for a romantic dinner date. Further, Tejaswini reveals that she was in a live-in relationship before the marriage. How will Praveen react to Tejaswini's confession?
13 May '22
S1 E5
.
Praveen meets Daisy
Disturbed by Tejaswini's revelation that she was in a live-in relationship before their wedding, Praveen visits a woman named Daisy at his friend's insistence. Will Daisy be able to help him cope with the situation?
13 May '22
S1 E6
.
Praveen-Tejaswini reconcile
While Praveen misunderstands Daisy to be a call girl, he is shocked to learn she is a counsellor. Daisy's words help Praveen to understand Tejaswini better and the duo reconcile.
13 May '22