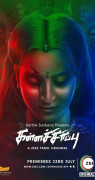 Plot
The series follows 24 year old Mahati (Amrutha Srinivasan) through a series of misadventures that begin after being forced into an arranged marriage. Then the newly married Mahati accidentally stabs her husband to death in self-defense after a heated argument. She then promptly wipes her blood-spattered face and calls her boyfriend to clean up the mess. This sets off a chain of events that the true nature of every character involved in this marriage.
Kallachirippu is Tamil Drama-Action web series with Rajalakshmi and Vikas in the lead role. It is currently streaming at ZEE5.
Where to watch season 1 of Kallachirippu online?
You can watch season 1 online here at
ZEE5
.
Cast & Creator
The full cast of Kallachirippu includes Rajalakshmi, Vikas and Amrutha Srinivasan. Vikas has also worked in movies like Dear Comrade, Inthi Ninna Preethiya and Kadaram Kondan. The creator of the show is not known at this time.
List of Episodes for Season 1
During an altercation, a 24-year-old Mahati accidentally kills her husband, Ram, and seeks the help of her boyfriend, Indrajith, to dispose of the body. However, trouble begins when the girl's parents come to her house. She must now hide the dead body and her boyfriend.
22 Jul '18
Mahati desperately wants her parents to leave so she can dispose of Ram's body with Indrajith's help. However, a new problem, that can put her into deeper trouble, is waiting to descend upon her.
22 Jul '18
Mahati and Indrajith dump Ram's body but panic when they see police officers patrolling the area. They manage to escape but are troubled by the thought that they may have left behind some clue.
22 Jul '18
Ram's parents arrive and end up having an argument with Mahati's parents. Meanwhile, the search for Ram intensifies triggering extreme paranoia in Mahati. A shocking videotape surfaces and gives a new twist to the story.
22 Jul '18
S1 E5
.
Smile! Or I'll Shoot!
Mahati and Indrajith are shocked when they hear the truth from the mystery man. They need to come up with a new plan to shift the blame on others and escape punishment.
22 Jul '18
While Ram's parents take the help of a police officer to solve the case, Mahati also tries to negotiate a deal with him. Later, the police officer calls all of them to a mortuary to identify a dead body.
22 Jul '18
It is revealed that Mahati's father discovered the truth about Ram on the day of their marriage but chose to remain silent. When Mahati comes to know of this later, she is infuriated and decides to teach him a lesson. But before she can do this, Indrajith messes up big time.
22 Jul '18
After a long and intense standoff between Mahati and her father, she inflicts the perfect revenge on him for all his misdeeds towards her.
22 Jul '18