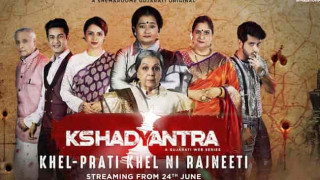 Kshadyantra (2021)
| | |
| --- | --- |
| Release Date | 24 Jun 2021 |
| Season | 1 |
| Genre | Drama |
| Language | Gujarati |
| Platform | ShemarooMe |
Plot
Pannaben is the master of politics and is the CM of a state. She has been the CM for 15 years and people love her as a leader. After a sudden turn of events, everyone wants to be the stakeholder of the chair in the family. An edge-of-the-seat thriller that keeps you guessing the game.
Kshadyantra is Gujarati Drama web series with Apara Mehta and Rohini Hattangady in the lead role. It is currently streaming at ShemarooMe.
Where to watch season 1 of Kshadyantra online?
You can watch season 1 online here at
ShemarooMe
.
Cast & Creator
The full cast of Kshadyantra includes Apara Mehta, Rohini Hattangady, Vandana Pathak, Vishal Gandhi, Shrenu Parikh and Deepak Gheevala. Apara Mehta has also worked in shows Kyunki... Saas Bhi Kabhi Bahu Thi... and Jamai Raja. The creator of the series is Urvish Parikh, who has also created films like Kachindo and London Calling.
List of Episodes for Season 1
Editor of a newspaper publication is murdered. Panna Patel, CM of the state, is challenged by her own politician uncle known as Kaaka. Her daughter in law Shalini has an eye on CM chair. The cabinet ministers are fed up with Panna's dictatorship. To everyone's surprise Panna is found unconscious in her chamber.
24 Jun '21
Panna is hospitalised. Shalini passes on important file to her ex boyfriend Rikin. Rikin's mother Shubhlaxmi is a business woman. Hasmukhbhai, Panna's personal secretary seems to have some deal with Kaaka. Kaaka has some secret plan to ruin Panna's image but unfortunately the same night Panna dies of severe heart attack.
24 Jun '21
S1 E3
.
Rajneeti - Seva, Vyavsay Ke Vyapar?
There is instability in the state due to sudden death of Panna. Shalini announces to be the next CM but then enters Panna's elder sister and proprietor of biggest newspaper publication and news channel Vasantiben enters and creates problem in Shalini's dream to be CM.
24 Jun '21
S1 E4
.
Sambandho Ni Aadh Ma Aada Sambandh
Kaaka is under attack. There is a bomb blast at house and Vasantiben's news channel plays a video of Late Pannaben where she announced that after her death who should be given the party's presidentship and the chair of CM. This disturbs Shubhlaxmi as her business may be affected.
24 Jun '21
S1 E5
.
Bhutkal Nu Najranu
Investigation is carried out by CBI but they are not able to get a single lead. Shalini's plans also fails and she is very angry. Vasanti informs Paras about her mother's affair with a business man called Sudhanshu few years back. The whole family gets a shock to see Sudhanshu walking in the house.
24 Jun '21
Shalini says Sudhanshu is her father's buisness partner. There was some deal between Kaaka and Sudhanshu to damage good will of Panna's family. What plans does Sudhansu Have and what are the CBI officers upto? Did they get any lead?
24 Jun '21
S1 E7
.
Prati Ramat No Khel
Police has suspicions on Shalini about mystery murders. There was some mystery behind Panna getting unconscious in her chamber few days back and her sudden death. What happnes when the cabinet ministers find out about that?
24 Jun '21
S1 E8
.
Kaaran Vagar Nu Raj Ke Raj Kaaran?
The game of conspiracy is unfolded. Who is playing the game and who is on whose side? Politics of game and counter game begins. There are many twists and turns and who ends up in the CM's chair finally?
24 Jun '21