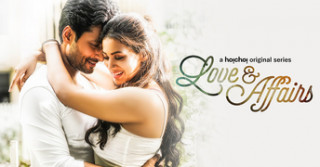 Plot
A marriage becomes a battlefield of love and doubt. Betrayal - or just suspicion?
Love and Affairs is Bengali Romance web series with Indraneil Sengupta and Barkha Bisht Sengupta in the lead role. It is currently streaming at .
Where to watch season 1 of Love and Affairs online?
Season 1 will stream online at .
Cast & Creator
The full cast of Love and Affairs includes Indraneil Sengupta, Barkha Bisht Sengupta and Debopriyo Mukherjee. Indraneil Sengupta has also worked in shows
Tadap
and movies like Kahaani, 1920 and Obhishopto Nighty. Barkha Bisht Sengupta has also worked in shows
Kamini
and
Tum Saath Ho Jab Apne
and movies like Ami Subhash Bolchi, Biporjoy and Dui Prithibi. The creator of the series is Abhishek Saha, who has also created films like Uronchondi.
List of Episodes for Season 1
At Abhijit's birthday party everyone is happy amidst the celebrations. But what seems to be bothering Roshni?
20 Jun '20
Roshni keeps her feelings of anguish hidden and acts like everything is normal. How long will she manage to keep it together?
20 Jun '20
Roshni is at her wit's end, tired of hiding her feelings. What will happen when she finally confronts her drunk husband?
20 Jun '20
The conversation between Abhijit and Roshni gets heated up, and a bitter truth is revealed. How will Abhijit react?
20 Jun '20
As reality hits Abhijit and Roshni, their relationship changes overnight. Will they part ways - or will their love emerge a winner?
20 Jun '20