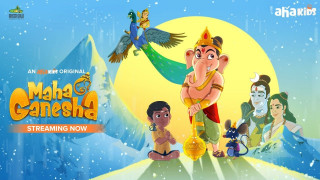 Plot
The story of lord Ganesha is told in a narrative fashion by an old holy man to a 9-year-old boy-vignesha in a temple. As the boy listens to the story, he's fascinated by the legend of Ganesha and keeps asking questions, which lead to different stories.
Maha Ganesha is Telugu Animation web series with in the lead role. It is currently streaming at Aha.
Where to watch season 1 of Maha Ganesha online?
You can watch season 1 online here at
Aha
.
Cast & Creator
The full cast of the Maha Ganesha is not known at this time. There are fresh faces in the cast and no reference to any previous show or films is found. The creator of the show is not known at this time.
List of Episodes for Season 1
S1 E1
.
Gajasura's Penance
When the mischievous and ever curious Vignesh wants to listen to a new story, the temple priest narrates Lord Ganesha's story which started with Gajasura. But who is Gajasura? What does he have to do with Ganesha? What is his desire?
10 Sep '21
As promised to Goddess Parvathi, Vishnu and Nandi leave in search of Gajasura to rescue Shiva. Meanwhile, they discover the evil king's penchant for music and dance. What does Vishnu do?
10 Sep '21
S1 E3
.
Birth of Vinayaka
Shiva, soon after being rescued, comes back to Kailasa to return to Parvathi only to be stopped by a child guarding the gates. An enraged Shiva chops the head of the boy in anger much to the dismay of Parvathi, who demands the boy be brought back to life. What is Shiva going to do?
10 Sep '21
S1 E4
.
The Boy with The Peacock
Ganesha and Karthikeya stumble across each other in a not-so-amicable situation. When both start playing against one another, Narada enters and reveals the relationship between the two of them. Who are these boys?
10 Sep '21