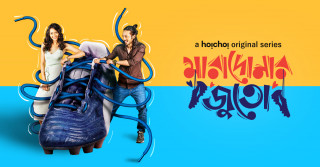 Plot
This is the story of two neighbouring families who have a generational feud about a pair of shoes belonging to the football legend, Maradona.
Maradonar Juto is Bengali Drama web series with Susmita Chatterjee and Amartya Ray in the lead role. It is currently streaming at Hoichoi.
Where to watch season 1 of Maradonar Juto online?
You can watch season 1 online here at
Hoichoi
.
Cast & Creator
The full cast of Maradonar Juto includes Susmita Chatterjee, Amartya Ray, Joydeep Mukherjee, Sujan Neel Mukherjee, Anirban Chakrabarti and Moyna Mukherji. Susmita Chatterjee has also worked in movies like Paka Dekha, Khela Jawkhon and Prem Tame. Amartya Ray has also worked in movies like Uronchondi and 22 Yards. The creator of the series is Mainak Bhaumik, who has also created films like Generation আমি, Aami Vs Tumi and Bornoporichoy: A Grammar Of Death.
List of Episodes for Season 1
A sudden realisation pushes the age-old tiff between the Dutta's and the Chowdhury's to its peak. When Rono and Hiya's friends put them in a room, things take an unexpected turn.
30 Apr '21
The grandmothers of the Dutta and Chowdhury households are up to something. Meanwhile, Rono and Hiya's fight shifts to the virtual world.
30 Apr '21
A confused Rono decides to listen to break up expert Nachu Dey's advice. But an ill-timed text from Hiya messes things up.
30 Apr '21
When Hiya's uncle Animesh catches her and Rono in an intimate moment, news spreads fast. Rono ends up taking a drastic step.
30 Apr '21
Turned down by Hiya, a devastated Rono decides to play for Team Chowdhury. In the meantime, the two grandmothers hatch up a plan of their own.
30 Apr '21
The older members of the Dutta and Chowdhury families rekindle their romance. Rono and Hiya turn emotional after coming face to face. Is a happy ending on the horizon?
30 Apr '21