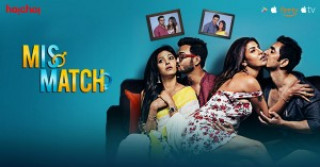 Plot
Diana feels her husband Ayan is a mismatch for her. While trying to explore and satiate her needs, will the couple end up in a "happily ever after" situation or not, is left for the viewers to find out.
Mismatch is Bengali Adult-Comedy web series with Rajdeep Gupta and Rachel White in the lead role. It is currently streaming at Hoichoi.
Where to watch season 1 of Mismatch online?
You can watch season 1 online here at
Hoichoi
.
Cast & Creator
The full cast of Mismatch includes Rajdeep Gupta, Rachel White, Mainak Banerjee, Supurna Malakar, Riyanka Dasgupta and Ayan Bhattacharjee. Rajdeep Gupta has also worked in shows
Japani Toy
,
Rahasya Romancha Series
and Calm Sutra and movies like Bharate, Teen Cup Chaa and Damadol. Rachel White has also worked in shows
Lips Don't Lie
and movies like One. The creator of the series is Soumik Chattopadhyay, who has also created films like Laboratory.
List of Episodes for Season 1
S1 E1
.
Toka Tok Toka Tok
Ayan and Diana make an odd couple, much to the latter's displeasure. On the contrary, Subhro is not satisfied with Urmi. How will the couple change situations?
15 Sep '18
S1 E2
.
Tumi Ki Amar Choto Pisi?
Subhro is elated to take Urmi for a trip, that she agrees to with much timidity for reasons known to her. Can Diana convince Ayan for a mystery tour as planned?
15 Sep '18
Upon reaching the destination, Ayan gets the shock of his life after finding the reason for the trip is a quick episode of couple swapping! Will he go for it?
15 Sep '18
S1 E4
.
Parallel Universe
The spree of adventure for Diana and her partner gets a jerk, when some uncalled situations arise, and arrive in the same hotel where the couples are staying!
15 Sep '18
Things turn worse for Ayan and Urmi, while Diana and Subhro feel their's is a perfect match. Are they deciding to call it quits with their respective partners?
15 Sep '18
It's time for the couples to face the blows from their better halves, not for better but for worse!
15 Sep '18