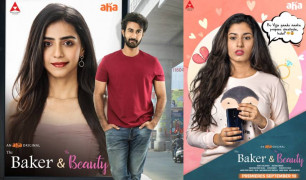 Plot

The Baker and the Beauty is Telugu Drama web series with Rajiv Kumar A. and Manoj Chandra in the lead role. It is currently streaming at Aha.
Where to watch season 1 of The Baker and the Beauty online?
You can watch season 1 online here at
Aha
.
Cast & Creator
The full cast of The Baker and the Beauty includes Rajiv Kumar A., Manoj Chandra, Srikanth Iyengar, Vishnu Priya, Tina Shilparaj and Santosh Shoban. There are fresh faces in the cast and no reference to any previous show or films is found. .
List of Episodes for Season 1
S1 E1
.
Wild-Mushroom Soup
Vijay and Maheshwari are celebrating their ninth anniversary. Vijay knows Maheshwari is expecting a proposal, but he's unsure of his feelings. The presence of the famous star actress Aira Vasireddy is also a slight distraction. When Mahi decides to take matters into her hands, the story takes an unexpected turn.
10 Sep '21
S1 E2
.
Jubilee hills Superman
Maheshwari issues an ultimatum to Vijay - propose to her by 8pm or he will lose her for good. Unfortunately, Vijay' family were never Maheshwari's biggest fans and have mixed opinions on the matter. Aira's manager Lakshmi, determined to disrupt any budding romance, sets the young baker up for humiliation – leaving Vijay and his relationship status up in the air in more ways than one.
10 Sep '21
S1 E3
.
Aira's Fan Part 1
Despite his fear of flying Vijay finds himself on a plane to Dubai, accompanying Aira to a gallery opening. During the flight, Aira studies for her upcoming audition for a Bollywood blockbuster. The film's producer, a notorious womanizer, insists on taking Aira to dinner after the opening, leaving Vijay alone and abandoned in a strange town. Back at home, his brother Vicky is in for a surprise.
10 Sep '21
S1 E4
.
Aira's Fan Part 2
Its midnight and Vijay, phone-less and wallet-less on the streets of Dubai, is about to discover that there are no free rides, when his rescuer turns out to be Aira's most determined fan. Aira has also attracted the attention of a stalker, who decides to use her film career as a bargaining chip. Vijay races to the rescue, but as our unlikely couple grow closer, has he been entirely truthful?
10 Sep '21
Ugadi, 1pm: Aira is due to arrive for lunch at the family's small house and Vijay's mother Padma is hysterical. Despite a rapidly growing festival of lies, the family manage to dance around the pitfalls during lunch, until Maheshwari storms in. With all the cards on the table and a handsome millionaire besieging Aira with flowers, is Vijay about to wake up from this dream?
10 Sep '21
A week after the disastrous festival day, Aira and Vijay still haven't spoken. Against his better instincts, Vicky, who's dreaming of being a singer, is persuaded to sell a photo of his brother with Aira to the press. A decision he immediately regrets when Vijay realizes Maheshwari's dreams with a marriage proposal. It's the happiest night of Maheshwari's life, but elsewhere, Aira is finally ready to take the plunge
10 Sep '21
Vijay hasn't slept all night, he's just stared at Aira, the most amazing woman he could ever have dreamt of. He just has to solve one minor issue, telling his fiancée Maheshwari about her. Unfortunately, this task may have already been ticked by the press, who are eager to reveal everything about Aira's new guy. Meanwhile, it's time for Vijay's father Venkateswarlu to respect his children's choices
10 Sep '21
When Vijay surprises Aira with a huge painting, Aira is impressed with his talent. Vicky arranges a gig for himself - despite it being a regular boring weekday. If he can get his guests of honor there, he can fill the place. Maheshwari and Lakshmi discover that they have a shared interest - but is Aira and Vijay's relationship strong enough to survive their scheming?
10 Sep '21
Vijay and Aira's happiness is destroyed with the news that her ex Rohan, a major Bollywood star, is due to arrive in town – the papers are already comparing Aira's leading men, somewhat unfavorably for Vijay. Maheshwari and Lakshmi put their plan into action. Vijay's little sister Meera tests her feelings, while Vicky's life is playing out like a movie – unfortunately one with a pretty tragic story.
10 Sep '21
Rohan doesn't waste a second, proposing to Aira through twitter! Maheshwari rushes to inform Vijay, adding her own lies to the story. With her eldest son heartbroken, Vicky's dreams of stardom ruined and Meera's love life in turmoil, Padma decides to fix things. But when Maheshwari finally comes clean, is Vijay prepared to fight for Aira's love?
10 Sep '21