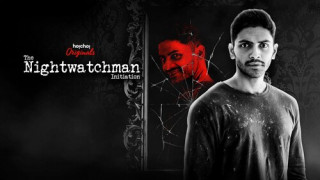 Plot
A young man gets a lucrative job offer. But this opportunity comes with a dark consequence. Will his life change overnight?
The Nightwatchman is Bengali Crime web series with Arjun Chakraborty and Kaushik Sen in the lead role. It is currently streaming at Hoichoi and Jio.
Where to watch season 1 of The Nightwatchman online?
Cast & Creator
The full cast of The Nightwatchman includes Arjun Chakraborty, Kaushik Sen and Ayan Bhattacharjee. The show is stacked with the popular stars. Among the lead cast, Arjun Chakraborty and Kaushik Sen have also worked together in Charuulata 2011 in past. Arjun Chakraborty has also worked in movies like Wheel Chair, Charuulata 2011 and Ankush. Kaushik Sen has also worked in shows
Lalbazaar
and Gaaner Oparey and movies like Charuulata 2011, Hanuman.Com and Drishtikone. .
List of Episodes for Season 1
S1 E1
.
Darkness within Light - Part I
A young man goes to meet a stranger in a hotel for for official purposes. What happens when he finds out that there has been a murder in the same hotel?
17 May '19
S1 E2
.
Darkness within Light - Part II
Nishith receives a well-paying offer to earn money - only in exchange for an uncanny assignment. Will he grab the opportunity? let us see what happens
17 May '19
S1 E3
.
The Silver Lining
As Nishith keeps thinking about the mysterious letter, he's caught off-guard by a shocking news. But, what's the unexpected gift he receives? let us see what happens
17 May '19
S1 E4
.
To Be or Not to Be
There's a rapid change taking over Nishith's lifestyle and behavior. Meanwhile, he gets a new assignment from his anonymous employer. Will he take the job? let us see what happens
17 May '19
S1 E5
.
The Magpie Effect
As Nishith receives another unexpected remuneration, he continues to make changes to his life. Will he finally be able to get even with the person he dislikes? let us see what happens
17 May '19
Nishith gets into a confrontation with his landlord over his missing money. What happens next is about to change his life forever. But who is behind all this? let us see what happens
17 May '19