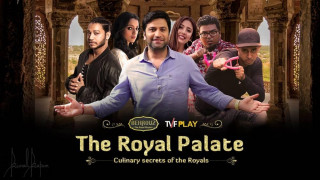 Plot
A show which takes you on a journey to discover culinary secrets of the royals with Chef Kunal Kapur
The Royal Palate is Hindi Talk-Show web series with Kunal Kapur and Melvin Louis in the lead role. It is currently streaming at TVFPlay and Youtube.
Where to watch season 1 of The Royal Palate online?
Cast & Creator
The full cast of The Royal Palate includes Kunal Kapur and Melvin Louis. There are fresh faces in the cast and no reference to any previous show or films is found. The creator of the show is not known at this time.
List of Episodes for Season 1
S1 E1
.
Kebabs of Lucknow
Lucknow mein jitney kisse, utne kebabs. In the first episode of Behrouz Biryani & TVFPlay presents #TheRoyalPalate we are serving kebabs of Lucknow where we savour the many types of kebabs the city has to offer. Chef Kunal will also meet Raja Mohammed Amir, the head of Royal Family of Mahmudabad, where he'll enlighten you on the history of kebabs in Lucknow..#TheRoyalPalate
16 May '19
S1 E2
.
Jungli-Laal-Safed Maas
In the second episode of Behrouz Biryani & TVFPlay presents #TheRoyalPalate we're in The Samode Palace in Jaipur and we're serving the ultimate delicacies of jungli maas, laal maas & safed maas. Chef Kunal will meet Yadavendra Singh, member of the royal family of Samode, with Benafsha Soonawalla and discover what makes these dishes the royal favorites.
23 May '19
The third episode of Behrouz Biryani & TVFPlay presents #TheRoyalPalate is a very special one. We're on a biryani trail where we will discover the story of biryani with Chef Kunal Kapur and Chef Sarah Todd. .Order from Behrouz Biryani and Experience the Royalty
30 May '19
In the fourth episode of Behrouz Biryani & TVFPlay presents #TheRoyalPalate we'll be exploring halwas of Rampur; not your usual gaajar ka halwa but a few extraordinary halwas like ghaas ka halwa, adrak ka halwa and machli ka halwa. .Order from Behrouz Biryani and Experience the Royalty
06 Jun '19
The fifth episode of Behrouz Biryani & TVFPlay presents #TheRoyalPalate takes you to the land of spices, Kerala. Chef Kunal Kapur and Barkha Singh will explore what makes Sadhya a feast of the royals and discover stories which makes Sadhya such an amazing spread. .Order from Behrouz Biryani and Experience the Royalty
13 Jun '19
In the 6th episode of Behrouz Biryani & TVFPlay presents #TheRoyalPalate, we take you to castle Kanota in Rajasthan with Chef Kunal Kapur & Ahsaas Channa to savor the royal delicacy of Phaguniya Kalia Kham which is meat cooked with vegetables grown especially during the spring season. .Order from Behrouz Biryani and Experience the Royalty
20 Jun '19
In the final episode of Season 1 of Behrouz Biryani & TVFPlay presents #TheRoyalPalate, Chef Kunal Kapur & the Jordindian will be exploring the exquisite royal Sheherwali cuisine in Murshidabad. .Order from Behrouz Biryani and Experience the Royalty
27 Jun '19