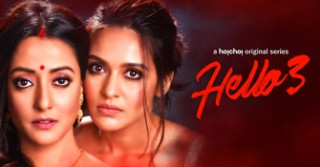 Plot
Life changes for Nandita when she receives a series of MMS with romantic messages that expose her husband Ananya's extra-marital affair with Nina. As the mystery thickens, Nandita realises...
Hello! is Bengali Adult-Drama web series with Priyanka Sarkar and Raima Sen in the lead role. It is currently streaming at Hoichoi and Youtube.
Where to watch season 1 of Hello! online?
Cast & Creator
The full cast of Hello! includes Priyanka Sarkar, Raima Sen and Joy Sengupta. The show is stacked with the popular stars. Among the lead cast, Priyanka Sarkar and Raima Sen have also worked together in KAYA: The Mystery Unfolds in past. Priyanka Sarkar has also worked in shows
Mahabharat Murders
and movies like Chirodini Tumi Je Amar, Obhishopto Nighty and Aami Vs Tumi. Raima Sen has also worked in shows
The Last Hour
and
Love, Sleep, Repeat
and movies like Parineeta, Vodka Diaries and Mirch. .
List of Episodes for Season 1
S1 E1
.
You Have One New Message
Life changes for Nandita when she receives a MMS from an unknown number, showcasing her husband Ananyo making love to Nina.
25 Sep '17
S1 E2
.
The Number is Blocked
Ananyo, angered, tries to find the intruder who shot the MMS. Meanwhile, an unknown man delivers Nandita a gift box, containing a finger ring, not her size.
25 Sep '17
Ananyo accuses Nandita for having a secret affair with the sender of the ring. Nandita receives another MMS and learns that the sender's name is Debol Shome.
25 Sep '17
Nandita visits a Puja pandal to catch Ananyo red-handed with Nina but in vain. Nandita keeps getting the series of MMS, complicating her married life even more.
25 Sep '17
During Sandhya Arati, Nandita notices Nina but barely recognises her. Later when Ananyo returns, his son finds something written on his palm.
25 Sep '17
S1 E6
.
Insufficient Balance
Nandita suspects a link between all the MMS and the mystery about Debal Shome deepens. Meanwhile, Nina is all praises for Nandita, which leaves Ananyo confused.
25 Sep '17
Nandita visits a pub where the mysterious Debal Shome had asked to meet her. Nandita notices Nina, dressed like her. When Ananyo confronts her, Nina declines.
25 Sep '17
A perplexed Nandita decides to leave. But then something happens, which completely leaves her shocked. Will the mystery regarding Debal Shome be solved?
25 Sep '17