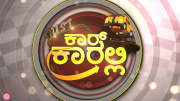 Just Car Caralli (2019)
| | |
| --- | --- |
| Release Date | 19 Jul 2019 |
| Season | 1 |
| Total Seasons | 2 |
| Genre | Talk-Show, Reality-TV |
| Language | Kannada |
| Platform | Voot |
Plot
In this celebrity-packed Voot exclusive, we're driving with your favourite Kannada stars and asking them all those questions which you always wanted to ask. From rumours and love affairs to secrets and gossip, Just Car Caralli has it all!.
Just Car Caralli is Kannada Talk-Show-Reality-TV web series with Sumukhi Suresh and Vijay Chendoor in the lead role. It is currently streaming at Voot.
Where to watch season 1 of Just Car Caralli online?
You can watch season 1 online here at
Voot
.
Cast & Creator
The full cast of Just Car Caralli includes Sumukhi Suresh, Vijay Chendoor, Sruthi Hariharan, Roger Narayan and Danish Sait. The show is stacked with the popular stars. Among the lead cast, Sumukhi Suresh and Vijay Chendoor have also worked together in Humble Politician Nograj in past. Sumukhi Suresh has also worked in shows
Pushpavalli
,
Tinderella
and
Beauty and the Feast
and movies like Humble Politician Nograj and Go Straight Take Left. Vijay Chendoor has also worked in movies like Lucky, Humble Politician Nograj and Dwimukha . The creator of the show is not known at this time.
Other Seasons for Just Car Caralli
List of Episodes for Season 1
S1 E1
.
Voot Exclusive with Rakshit Shetty
In this Voot exclusive we're hitching a ride with none other than Rakshit Shetty! From his first salary to his student life, the star is doling out all the juicy details on this fun ride!
S1 E2
.
Voot Exclusive: What is Rashmika's favourite emoji?
Rashmika reveals the qualities she looks for in a man, but cleverly dodges questions about Rakshit Shetty. What is the word Rashmika uses the most? From her favourite app to her favourite emoji, the cute Rashmika answers most of the questions with a straight bat. Watch it exclusively on Voot!
S1 E3
.
Srujan clears the air
Srujan Lokesh reveals that some people complain that certain heroes are not invited to Majaa Talkies because they are not in good terms with Darshan. Srujan clears the fact that his friendship with Darshan has nothing to do with inviting heroes to the show. Watch this clip as he shares his diet and also reveals his respect for money and the importance of it in life.
S1 E4
.
Samyuktha Hegde, a bona fide foodie!
S1 E5
.
Is Rishi single and ready to mingle?
In this candid dialogue with Rishi AKA Purmy, the tall, dark and handsome star reveals his celebrity crush on the famous actress, Deepika Padukone and the pros of them being a couple. The single actor talks about his family and his humble beginnings as a radio jockey. Catch Rishi's passionate message for the single ladies who are looking for a chance to woo him!
S1 E6
.
A ride with Rishab Shetty
Rishab Shetty has a blast answering all the quirky questions in this fun ride. From his diet to his escape from a traffic cop after driving under the influence, Rishab's answers it all. He signs off by singing his song from Kirik Party in Yakshagana style.
S1 E7
.
Vasishta serenades the ladies
Just Car Caralli interviews the techie-turned-actor Vasishta Simha, who jokes about how he got into the film industry by accident. Vasishta, with his sensuous baritone, serenades the ladies and reveals his fun side. Don't miss out on his amusing tidbits about himself!
S1 E8
.
The story behind the bald head!
The Ondu Motteya Kathe fame, multi talented, Raj B Shetty shares the story behind his bald head and makes fun of the people who tease him about it. He talks about his ex-girlfriend and the embarrassment he faced on being compared to a certain Hollywood actor. Catch the star's humorous side only on Voot!
S1 E9
.
Manvitha's celebrity crush!
Manvitha Harish, the innocent girl from Kendasampige, reveals her naughty side in this fun-filled interview. She talks about her lost love and her dreams about a very famous celebrity. Know this and much more on this episode of Just Car Caralli, only on Voot.