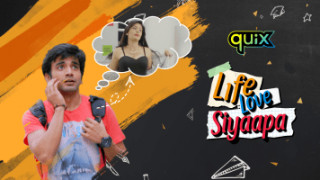 Life Love Siyaapa (2021)
| | |
| --- | --- |
| Release Date | 06 Jun 2021 |
| Season | 1 |
| Genre | Drama, Comedy |
| Language | Hindi |
| Platform | Disney+ Hotstar |
Plot
With the help of his two whacky BFFs, loser Rishabh tries to woo the most popular girl in his campus. But college stud Spunky becomes a thorn in his flesh.,
Life Love Siyaapa is Hindi Drama-Comedy web series with Ayush Mehra and Harshit Sidhwani in the lead role. It is currently streaming at Disney+ Hotstar.
Where to watch season 1 of Life Love Siyaapa online?
List of Episodes for Season 1
Rishabh's photoshopped picture with college diva Anju leads to him getting publically humiliated by Spunky, the campus stud, and Anju's boyfriend.
06 Jun '21
To get rid of the 'loser' tag, Rishabh, Puppy and Chewang solicit the services of a 'firang'. But hell breaks loose when Rishabh's father finds out about his half girlfriend.
06 Jun '21
Chewang creates a dating app that becomes popular on campus, but soon it leads to a scandal that brings ACP Rathore to their doorstep.
08 Jun '21
Not wanting to muck up his first kiss, Rishabh decides to practise kissing. However, Daadi catches him in the act!
08 Jun '21
S1 E5
.
How Not to Woo a Girl?
With a plan to impress Anju with his swag, Rishabh takes his dad's new car out for a spin. What happens when his overconfidence results in an accident?
10 Jun '21
Rishabh, his besties, his drunk dad and 'Lord Krishna' go on a road trip to try and win back Anju when she gives him a window of opportunity.
11 Jun '21
S1 E7
.
Canedawali 'HOT' Didi
Rishabh's hot second cousin from Canada visits their house. She comes onto Rishabh while he wonders how much damage can be caused by dating his cousin.
12 Jun '21
Rishabh pleads with Anju to donate her kidney to his ailing Daadi. On the other hand, Spunky plans another public humiliation for Rishabh.
13 Jun '21