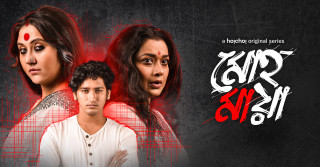 Plot
Rishi comes to live as a paying guest in his childhood friend Miki's house. With his mother dead, Rishi soon forms a bond with Aruna who he starts seeing as his mother. But Rishi's obsession eventually pushes him towards a past he always wanted to escape from.
Mohomaya is Bengali Thriller-Drama web series with Swastika Mukherjee and Ananya Chatterjee in the lead role. It is currently streaming at Hoichoi.
Where to watch season 1 of Mohomaya online?
You can watch season 1 online here at
Hoichoi
.
Cast & Creator
The full cast of Mohomaya includes Swastika Mukherjee, Ananya Chatterjee and Bipul Patra. The show is stacked with the popular stars. Among the lead cast, Swastika Mukherjee and Ananya Chatterjee have also worked together in Mohomaya in past. Swastika Mukherjee has also worked in shows
Medically Yourrs
,
Paatal Lok
and
Charitraheen
and movies like Detective Byomkesh Bakshy!, Jaatishwar and Bhooter Bhabishyat. Ananya Chatterjee has also worked in shows Mohomaya and Subarnalata and movies like Cloud Capped Star, Abohomaan and Tope. The creator of the series is Kamaleswar Mukherjee, who has also created shows Mohomaya and films like Cloud Capped Star, Mountains of the Moon and Good night city.
Other Seasons for Mohomaya
List of Episodes for Season 1
As Miki leaves for Canada, he requests Aruna to accommodate Rishi, his childhood friend, as a paying guest. Although hesitant at first, Aruna agrees after meeting Rishi, impressed by his respectable behaviour.
26 Mar '21
S1 E2
.
Bhogoban kotha sone na
Rishi becomes an inseparable part of Aruna's household. Rishi's past is a deep ocean of secrets, and he finds a motherly solace in Aruna.
26 Mar '21
Aruna's husband Suranjan becomes wary of this unconventional bond between Aruna and Rishi. Strange accidents start to happen in the household, putting Mithi at stake.
26 Mar '21
Faced by questions, Rishi decides to leave Suranjan's house. But Aruna's growing dependency on him doesn't let him leave. Miki's girlfriend Baishali visits Suranjan, and devises a ploy to find out more about Rishi.
26 Mar '21
As Mithi recovers from her fatal injury, Rishi takes over the household. Suranjan becomes even more doubtful about Rishi's motive, but Aruna has blind faith in Rishi. On the other hand, Baishali finds out about Rishi's obsessive fixation about his mother Maya. Can Rishi take the secrets to his grave?
26 Mar '21