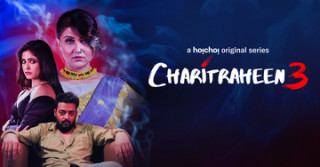 Plot
Hoichoi Originals presents "Charitraheen", based on the novel by Sarat Chandra Chattopadhyay, with the twists and turns being much in sync with today's world.
Charitraheen is Bengali Thriller web series with Swastika Mukherjee in the lead role. It is currently streaming at Hoichoi and Youtube.
Where to watch season 1 of Charitraheen online?
Cast & Creator
The full cast of Charitraheen includes Swastika Mukherjee . Swastika Mukherjee has also worked in shows
Medically Yourrs
,
Paatal Lok
and Criminal Justice: Adhura Sach and movies like Detective Byomkesh Bakshy!, Jaatishwar and Bhooter Bhabishyat. The creator of the series is Shakti Samanta, who has also created films like Amar Prem, Aradhana and Kati Patang.
List of Episodes for Season 1
Kiran is a beautiful young woman, who is loyal to her husband Haran. However, a dark secret lies in their married life that's unknown to the world outside.
29 Sep '18
Kiran is unknowingly becoming the object of fantasy for men. Does she understand who is playing with her image and respect?
29 Sep '18
While searching for Sabitri, a masseuse, Satish comes across Kiran and recognizes her. But how does he know her?
29 Sep '18
Kiran is shocked to find out about her Facebook account and her intimate pictures. Who created the account and why?
29 Sep '18
Kiran finds out Haran's dark secret and decides to play the game he started. How will her punishment for his affect their marriage?
06 Oct '18
Satish is desperate for love and intimacy. Will his search show him the true colors of some people in his life?
06 Oct '18
The troubles and tension between Kiran and Haran increases. Will Kiran take her revenge and hurt Haran?
06 Oct '18
The game of lust doesn't seem to end for Kiran as she loses herself in a maze of betrayal. Will she be able to find her way out?
13 Oct '18
Kiran is trapped in a world of pain and darkness. Meanwhile, someone is forcing his way into her life.
13 Oct '18
S1 E10
.
Noroker Khobor 2
Kiran and Haran are finally taking a step towards togetherness. But will their love be successful?
13 Oct '18
The true colors of all the people in the story get revealed. Will they finally get what they deserve?
13 Oct '18