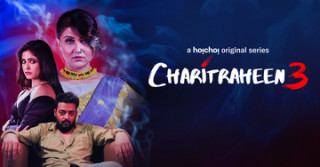 Plot
Hoichoi Originals presents "Charitraheen", based on the novel by Sarat Chandra Chattopadhyay, with the twists and turns being much in sync with today's world.
Charitraheen is Bengali Thriller web series with Swastika Mukherjee in the lead role. It is currently streaming at Hoichoi and Youtube.
Where to watch season 2 of Charitraheen online?
Cast & Creator
The full cast of Charitraheen includes Swastika Mukherjee . Swastika Mukherjee has also worked in shows
Medically Yourrs
,
Paatal Lok
and
Black Widows
and movies like Detective Byomkesh Bakshy!, Jaatishwar and Bhooter Bhabishyat. The creator of the series is Shakti Samanta, who has also created films like Amar Prem, Aradhana and Kati Patang.
List of Episodes for Season 2
S2 E1
.
A Tale Yet to Tell
Kiran's life changes after her husband's death. Does Satish find true love? Experience the story of love, lust, and lies.
28 Jun '19
Kiran once again steps into a new home with Dr. Abhay, where there's a surprise waiting for her. Meanwhile, will Bhengchi agree to meet her mother?
28 Jun '19
What's stopping Bhengchi from meeting her ex-boyfriend? Is Kiran unintentionally turning the good man in Abhay into a man eater?
28 Jun '19
What mistake in the past has caused the separation between Bhengchi and Shabitri? Will Kiran falls prey to the lust of a man, once again in her life?
28 Jun '19
As Satish returns to his senses, Kiran's stay in the house is questioned. As Ushnish and Bhengchi miss each other, will the two finally reunite?
05 Jul '19
S2 E6
.
Flesh and Blood 2
Will Satish help Kiran escape from Abhay who continues to prey on her? What does Bhengchi do to take her revenge on Usnish?
05 Jul '19
Sabitri confronts Abhay after seeing his pictures with Bhengchi, and meets someone unexpectedly. Will Nirupama gets over her traumatic past?
05 Jul '19
Kiran gets trapped by Richard and has to leave the house. Meanwhile, is Bhengchi getting close to Abhay, or is she planning revenge?
05 Jul '19
Bhengchi and Nirupama both reach the most important phases in their lives. But, will Kiran's story end in peace and love?
05 Jul '19