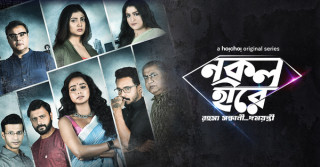 Plot

Nokol Heere is Bengali Drama web series with Tuhina Das and Indrasish Roy in the lead role. It is currently streaming at Hoichoi.
Where to watch season 1 of Nokol Heere online?
You can watch season 1 online here at
Hoichoi
.
Cast & Creator
The full cast of Nokol Heere includes Tuhina Das, Indrasish Roy, Rajnandini Paul, Anindita Raychaudhury, Sujoy Prasad Chatterjee and Biswajit Chakraborty. The show is stacked with the popular stars. Among the lead cast, Tuhina Das and Indrasish Roy have also worked together in Damayanti in past. Tuhina Das has also worked in shows
Damayanti
and
Break Up Story
and movies like Sin Sister and Ghawre Bairey Aaj. Indrasish Roy has also worked in shows
Astey Ladies
and
Damayanti
and movies like Lorai: Play to Live, Mandobasar Galpo and Nagarkirtan. The creator of the series are Aritra Sen and Rohan Ghose. Aritra Sen has also created shows
Sharate Aaj
and
Mafia
and films like Bhalobasar Shohor - Pori.
List of Episodes for Season 1
Dipanwita shoots her husband Pratap to death. But Sushil Maitra, her father, believes that his daughter cannot be a cold-blooded murderer. Damayanti is asked to investigate the case.
12 Mar '21
Damayanti finds out that Dipanwita believed that Pratap wanted to kill her. Damayanti visits Pratap's factory and meets Satyaki, Sushil Maitra's distant nephew. An accident takes place in the factory.
12 Mar '21
Dipanwita starts acting paranoid, faced with questions. Damayanti talks to Pratap's one and only guardian Panchali, an artist. While at a pub Damayanti meets a mysterious guy called Akash.
12 Mar '21
Akash turns out to be an investigator who Pratap hired to keep an eye on Dipanwita. He reveals Dipanwita's dark past. While at Panchali's exhibition, a shock awaits Damayanti.
12 Mar '21
Damayanti thinks that Pratap may have had an illicit relationship with Panchali. While Panchali is charged with the sexual exploitation of young students, Damayanti's next focus is Satyaki.
12 Mar '21
Rabi abducts Damayanti and Akash and threatens them to stay away. Upon release, Damayanti finds out about Sushil Maitra's relationship with Satyaki. She visits Suchishmita and meets her paralysed husband Ramanuj, deeply revered by Dipanwita.
12 Mar '21
Damayanti locates the mastermind. Through psychological manipulation both Dipanwita and Pratap were made to believe that they were cheating on one another. On the other hand, all about Satyaki's affair is found out. Damayanti meets the convict at a court trial and forces the confession out of him.
12 Mar '21