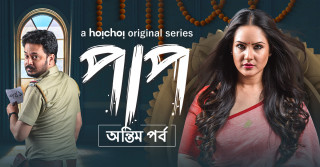 Plot
What's the reason for Parboni's return to her past? Will her family accept her this way? This Durga Puja, witness the drama that unfolds at the Chowdhury household as Parboni returns with a dreaded secret.
Paap is Bengali Thriller-Drama web series with Pooja Bose and Rahul Banerjee in the lead role. It is currently streaming at Hoichoi and Jio.
Cast & Creator
The full cast of Paap includes Pooja Bose, Rahul Banerjee, Rajat Ganguly and Bhaswar Chatterjee. Pooja Bose has also worked in movies like Great Grand Masti, Rajdhani Express and Veedu Theda. Rahul Banerjee has also worked in movies like Aami Vs Tumi, Jaatishwar and Cloud Capped Star. .
List of Episodes for Season 1
Darkness falls upon a 200-year old traditional household Durga Pujo when the priest is murdered. Will the unwelcome guest in the house change everything?
02 Oct '19
Parboni arrives At the Boikuntho house during Durga Pujo to return something valuable. Will the memories of the past come back to life because of her presence?
02 Oct '19
Even as Parboni meets her old friend Choton, she is constantly disturbed by her past. But, what family heirloom does she return?
02 Oct '19
The police come to the Boikuntho house to investigate the priest's murder. Meanwhile, what memories of Parboni's past return to the mentally unwell Choton?
02 Oct '19
Tragedy befalls Boikuntho house on Ashtami morning, as another dead body is discovered. Is Parboni the reason behind the two deaths?
02 Oct '19