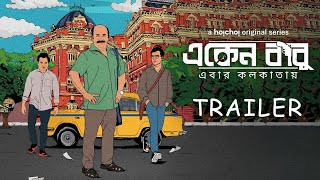 Plot
The Bangali Babu of the detective world, Eken Babu travels to Shantiniketan. Will he smell a mystery in a murder?
Eken Babu is Bengali Mystery-Comedy web series with Anirban Chakrabarti and Shoumo Banerjee in the lead role. It is currently streaming at Hoichoi and Youtube.
Where to watch season 1 of Eken Babu online?
Cast & Creator
The full cast of Eken Babu includes Anirban Chakrabarti, Shoumo Banerjee and Bubble. Anirban Chakrabarti has also worked in shows
Krishanu Krishanu
and
Eken Jatra
and movies like Love Aaj Kal Porshu, Feludar Goyendagiri: Darjeeling Jawmjawmaat and The Eken. Shoumo Banerjee has also worked in shows Noshtoneer and Gobhir Joler Maach. The creator of the series are Anirban Mallik and Anupam Hari. Anirban Mallik has also created shows
Shei Je Holud Pakhi
.
Other Seasons for Eken Babu
List of Episodes for Season 1
S1 E1
.
Two deaths, one mystery
Eken Babu reaches an apartment in Bangalore, much to the mixed reaction of its residents, who later find one of their fellow residents dead.
03 Mar '18
S1 E2
.
Suicide or Murder?
Police start their investigation to find the reason behind Kirit Patel's untimely death. Meanwhile, Eken Babu seems no less keen to know the cause as well.
03 Mar '18
S1 E3
.
Doubt... Doubt...
Eken Babu's curiosity about Kirit Patel's death leaves everyone irritated. However, Eken Babu is eager to meet astrologer Shailen Sapui to ask about his future.
03 Mar '18
S1 E4
.
An Astrologer\'s Day
Bapi and Pramatha take Eken Babu to Shailen Sapui's chamber. But will he be able to live up to Eken Babu's expectations of being a 'genius'?
03 Mar '18
Eken's curiosity takes him to the deceased - Kirit Patel's apartment, where he finds a diary. Will it be a lead to the cause of his untimely death?
03 Mar '18
A restless Eken Babu leaves no-stone-unturned to investigate Kirit Patel's death. But what is his own motive behind the eagerness?
03 Mar '18
S1 E7
.
The Missing Friday
Despite Bapi and Pramatha suspecting him, Eken reads Patel's diary and finds, that all his Friday chronicles are missing. Do these pages have the answer to his death?
03 Mar '18
With every step forward, Eken Babu is nearing the conclusion to Patel's death. Little is he aware, that someone else is spying on his actions too.
03 Mar '18
His ceaseless investigations lead him to a certain twist in the tale. It is at this point of time, that Eken Babu decides it's time for a showdown.
03 Mar '18
It's a curtain call for all, as everyone awaits for the truth behind Kirit Patel's murder to unfold.
03 Mar '18