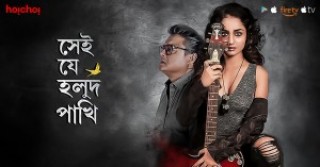 Plot
Som lost his daughter whose music is now his only resort. But, what if they lead to a cacophony of mysterious strains? Presenting hoichoi's first musical-thriller!
Shei Je Holud Pakhi is Bengali Thriller web series with Saswata Chatterjee and Tridha Choudhury in the lead role. It is currently streaming at Hoichoi and Youtube.
Where to watch season 1 of Shei Je Holud Pakhi online?
Cast & Creator
The full cast of Shei Je Holud Pakhi includes Saswata Chatterjee, Tridha Choudhury and Gourab Chatterjee. Saswata Chatterjee has also worked in shows
Dhimaner Dinkaal
and movies like Kahaani, Jagga Jasoos and The Bong Connection. Tridha Choudhury has also worked in shows
Spotlight
,
The Chargesheet: Innocent or Guilty?
and
Dulha Wanted
and movies like Surya Vs Surya, Jodi Love Dile Na Prane and Anukunnadhi Okkati Aynadhi Okkati. The creator of the series is Anirban Mallik, who has also created shows
Eken Babu
.
Other Seasons for Shei Je Holud Pakhi
List of Episodes for Season 1
S1 E1
.
Golpo Amar Phurolo
While searching for his lost daughter Mitil, Inspector Som reaches out to Euthansia band singer Vaidehi to sing her song in a concert. Can she keep the promise?
30 Jun '18
Som feels all hopes lost, as he gets wrongly accused for being the reason behind Vadehi's sudden death.
30 Jun '18
Som is accused for being the cause of Mitil's disappearance. A heartbroken Som is also given the job of investigating Vaidehi's death.
30 Jun '18
A candle march is held as a tribute to Vaidehi; her band members are thoroughly devastated. Is this the end for the team?
30 Jun '18
Situations complicate further when Som asks the rest of the band members to assemble at Vaidehi's place for an interrogative session.
30 Jun '18
S1 E6
.
Aaj tobe khoma koro
Som reaches an asylum to connect all the dots he has gathered over the past weeks, only find Vaidehi's mother there.
30 Jun '18
While Euthanasia is about to make a comeback with a new vocalist, Som has reached the conclusion of his investigation about Vaidehi's death.
30 Jun '18