Shei Je Holud Pakhi - Season 2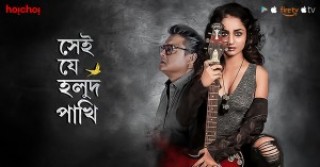 Plot
Som lost his daughter whose music is now his only resort. But, what if they lead to a cacophony of mysterious strains? Presenting hoichoi's first musical-thriller!
Shei Je Holud Pakhi is Bengali Thriller web series with Saswata Chatterjee and Tridha Choudhury in the lead role. It is currently streaming at Hoichoi and Youtube.
Where to watch season 2 of Shei Je Holud Pakhi online?
Cast & Creator
The full cast of Shei Je Holud Pakhi includes Saswata Chatterjee, Tridha Choudhury and Gourab Chatterjee. Saswata Chatterjee has also worked in shows
Dhimaner Dinkaal
and movies like Kahaani, Jagga Jasoos and The Bong Connection. Tridha Choudhury has also worked in shows
Spotlight
,
Dulha Wanted
and
The Chargesheet: Innocent or Guilty?
and movies like Surya Vs Surya, Shesh Theke Shuru and Seven. The creator of the series is Anirban Mallik, who has also created shows
Eken Babu
.
Other Seasons for Shei Je Holud Pakhi
List of Episodes for Season 2
Somnath Maitra starts investigating Vaidehi's death along with the new police officer who happens to be his ex lover Anuradha Mukherjee. It is from Vaidehi's song they find out a hidden clue.
14 Apr '21
Somnath and Anuradha realise that Sudip Chatterjee, the manager of the pub, is eavesdropping to their conversation. On further investigations, they find out that his son Rik too is involved.
14 Apr '21
S2 E3
.
Tomay Gaan Shonabo
Somnath and Anuradha visit the hospital to inquire about Vaidehi's post-mortem. The don't find anything until the doctor who did Vaidehi's autopsy calls Somenath at night and reveals a dark secret about her. The duo meets Vaidehi's mother Karuna, once a fantastic singer.
14 Apr '21
Probhakor, the manager of the Black Sea Pub gives leads about an underground racket. Somenath and Anuradha tries to find out the source, only to come across yet another brutal accident.
14 Apr '21
Digging deeper, Somenath and Anuradha find a photograph which brings all the loose ends together. They realise that Sudip Chatterjee, Diganta, Promotho share a common connection with someone actually close to Vaidehi.
14 Apr '21
Together, the duo confronts Rik, who turns helpless. At the Ganga Ghat, Somenath faces a terrible danger. There's a another clue unraveling from the photograph.
14 Apr '21
Vaidehi's story is unraveled. The seed of her disaster was that, Vaidehi was having an impossible affair with a person who apparently was not the father of the child she was pregnant with.
14 Apr '21
S2 E8
.
Golpo Ebar Phurolo
The king-pin of the underground racket is located. Uglier things start surfacing up from the past, as Vaidehi's murder is finally resolved.
14 Apr '21