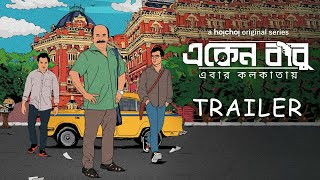 Plot
Hoichoi Originals soon presents 'Eken Babu' featuring a man with a quirky persona, who lands up in an apartment in Bangalore, much to the annoyance of its residents.
Eken Babu is Bengali Mystery-Comedy web series with Anirban Chakrabarti and Shoumo Banerjee in the lead role. It is currently streaming at Hoichoi and Youtube.
Where to watch season 4 of Eken Babu online?
Cast & Creator
The full cast of Eken Babu includes Anirban Chakrabarti, Shoumo Banerjee and Bubble. Anirban Chakrabarti has also worked in shows
Krishanu Krishanu
,
Case Jaundice
and
Eken Jatra
and movies like Love Aaj Kal Porshu. The creator of the series is Anirban Mallik, who has also created shows
Shei Je Holud Pakhi
.
List of Episodes for Season 4
S4 E1
.
Shiraz-er Biriyani
Eken reaches Burman House in search of some royal history and food. But there's an attempt of murder on Tunganath, the owner of the house.
02 Oct '20
The advent of Satyakam, a historian researcher in this Burman family, creates new tension. Who is Satyakam?
02 Oct '20
Eken uncovers a dark secret about Tunganath's past. Satyakam commits suicide. Is there a connection?
02 Oct '20
Eken's suspicion tells him that Satyakam's suicide is a murder. But how will he prove it?
02 Oct '20
There's a cloud of unease around Tunganath's will. Will Eken get to the bottom of it?
02 Oct '20
Eken catches the real culprit and reveals how things are connected by retelling the history of Burman house.
02 Oct '20