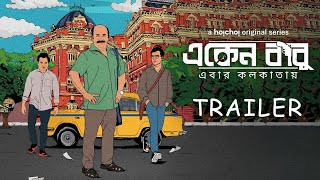 Plot
The Bangali Babu of the detective world, Eken Babu travels to Shantiniketan. Will he smell a mystery in a murder?
Eken Babu is Bengali Mystery-Comedy web series with Anirban Chakrabarti and Shoumo Banerjee in the lead role. It is currently streaming at Hoichoi and Youtube.
Where to watch season 5 of Eken Babu online?
Cast & Creator
The full cast of Eken Babu includes Anirban Chakrabarti, Shoumo Banerjee and Bubble. Anirban Chakrabarti has also worked in shows
Krishanu Krishanu
,
Maradonar Juto
and
Case Jaundice
and movies like Kakababur Protyaborton, Kakababur Protyaborton and F.I.R NO. 339/07/06. The creator of the series are Anirban Mallik and Anupam Hari. Anirban Mallik has also created shows
Shei Je Holud Pakhi
.
Other Seasons for Eken Babu
List of Episodes for Season 5
Eken and Bapi travel to Bolpur for a quick getaway. Shortly after, a murder occurs.
08 Oct '21
S5 E2
.
Kothay Pabo Tare?
Eken, Bapi and Rupal Mehra see that the red diamond is missing. Meanwhile, Suresh Mitra can't be found anywhere.
08 Oct '21
S5 E3
.
Outhouse-ey Henyali
Following another death and the discovery of a cryptic clue, the police catch a suspect. But the case is far from closed.
08 Oct '21
Eken gets some vital information from a surprising source. Inspecting the earlier clue again reflects light on two more suspects.
08 Oct '21
Eken seems to have cracked the case. A leisurely night walk of Eken and Bapi turns into a thrilling chase.
08 Oct '21
Eken reveals to Bapi and Rupal the series of events that led to the two deaths.
08 Oct '21