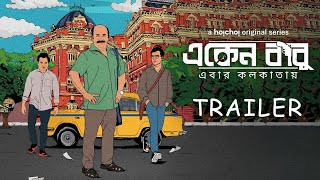 Plot
The Bangali Babu of the detective world, Eken Babu travels to Shantiniketan. Will he smell a mystery in a murder?
Eken Babu is Bengali Mystery-Comedy web series with Anirban Chakrabarti and Shoumo Banerjee in the lead role. It is currently streaming at Hoichoi and Youtube.
Where to watch season 6 of Eken Babu online?
Cast & Creator
The full cast of Eken Babu includes Anirban Chakrabarti, Shoumo Banerjee and Bubble. Anirban Chakrabarti has also worked in shows
Krishanu Krishanu
,
Maradonar Juto
and Dugdugi and movies like Kakababur Protyaborton, Kakababur Protyaborton and F.I.R NO. 339/07/06. Shoumo Banerjee has also worked in shows Noshtoneer and Gobhir Joler Maach. The creator of the series are Anirban Mallik and Anupam Hari. Anirban Mallik has also created shows
Shei Je Holud Pakhi
.
Other Seasons for Eken Babu
List of Episodes for Season 6
S6 E1
.
Kolkatay Kelenkari
The much-awaited homecoming for the trio takes a turn when Eken is appointed to investigate a mysterious death in the City of Joy.
23 Dec '22
Eken, Bapi and Pramatha start interrogating the usual suspects while the city witnesses another murder, thereby setting off a bizarre number game.
23 Dec '22
Eken becomes desperate to find any connection between Bikash and Tanmoy that can help in cracking the number game. Meanwhile, the killer makes his next move.
23 Dec '22
While the case gets more complex with mystifying discoveries about Bikash Sen, the killer suddenly changes the pattern of his number game.
23 Dec '22
S6 E5
.
Destination Ranchi
The revelation of Bikash's gruesome past leads Eken to untangle a crucial end of the case. Rupal comes back to reveal the main culprit.
30 Dec '22
S6 E6
.
Tribhuj na Choturbhuj
Eken makes a shocking discovery about an old unsolved case that unveils the perpetrators.
06 Jan '23