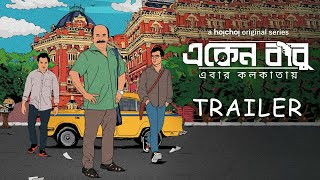 Plot
Hoichoi Originals soon presents 'Eken Babu' featuring a man with a quirky persona, who lands up in an apartment in Bangalore, much to the annoyance of its residents.
Eken Babu is Bengali Mystery-Comedy web series with Anirban Chakrabarti and Shoumo Banerjee in the lead role. It is currently streaming at Hoichoi and Youtube.
Where to watch season 3 of Eken Babu online?
Cast & Creator
The full cast of Eken Babu includes Anirban Chakrabarti, Shoumo Banerjee and Bubble. Anirban Chakrabarti has also worked in shows
Krishanu Krishanu
,
Case Jaundice
and
Eken Jatra
and movies like Love Aaj Kal Porshu. The creator of the series is Anirban Mallik, who has also created shows
Shei Je Holud Pakhi
.
List of Episodes for Season 3
S3 E1
.
Destination Dhaka
Eken Babu is in Dhaka to attend a literary meet. Will he smell something fishy when a man dies of a heart attack at a party?
28 Nov '19
Bapi and Pramatha discourage Eken Babu to stop investigating Masud's sudden death. Will he listen to his friends - or will he continue his quest for truth?
28 Nov '19
No one believes that Masud's death is an unnatural one. But how do Bapi and Pramatha gradually join Eken Babu's investigations?
28 Nov '19
S3 E4
.
Highly Suspicious
Eken Babu gets attacked by goons at a cafe in Dhaka. Will he be able to fight them off and find a cause for the unnatural death?
28 Nov '19
Even as Eken Babu gets closer to solving the mystery, he still struggles to put an end. find the truth before he leaves Dhaka?
28 Nov '19