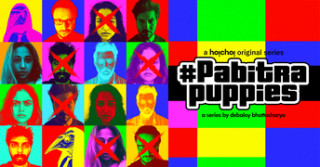 Plot
A game is deciding the fate of a group of friends, as they drop dead one inside their own homes. But how?
Pabitra Puppies is Bengali Crime-Thriller web series with Vikram Chatterjee and Sohini Sarkar in the lead role. It is currently streaming at Hoichoi.
Where to watch season 1 of Pabitra Puppies online?
You can watch season 1 online here at
Hoichoi
.
Cast & Creator
The full cast of Pabitra Puppies includes Vikram Chatterjee, Sohini Sarkar, Saayoni Ghosh, Saurav Das, Ankita Chakraborty and Bubble. Vikram Chatterjee has also worked in shows
Paanch Phoron
and
Tansener Tanpura
and movies like Hoichoi, Gogoler Kirti and Meghnadbodh Rohoshyo. Sohini Sarkar has also worked in shows
Judgement Day
and movies like Cinemawala, Phoring and Byomkesh Gotro. The creator of the series is Debaloy Bhattacharya, who has also created shows
Dupur Thakurpo
,
Holy Faak
and
Charitraheen
and films like Bidaay Byomkesh, Teen Cup Chaa and Dracula Sir.
List of Episodes for Season 1
The homebound members of the #PabitraPuppies group start playing an online game. But they soon realize that this game will change their fate.
13 Jun '20
S1 E2
.
Love in the Times of Corona
The other members of #PabitraPuppies try to recover from the sudden shock. Little do they know that there's more left for them.
13 Jun '20
There's a stranger, KM, who sneaks into the game of #PabitraPuppies members. Who is this mystery man and what is his motive?
13 Jun '20
S1 E4
.
Labyrinth of Death
Are the deaths of the #PabitrapPuppies members really suicides - or murders? As the investigation continues, the players choose a new risk.
13 Jun '20
S1 E5
.
Aguner Poroshmoni
The final phase of the deadly game begins! Is there going to yet another murder, or will the killer be caught before that?
13 Jun '20