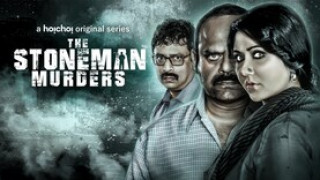 Plot
Find out if the Stoneman of 90's Kolkata still out in the streets? It's a thriller about the stone-man murders taking place in late 80s around Calcutta. hoichoi brings the story from a different point of view, showcasing why someone would resort to mass killing.
The Stoneman Murders is Bengali Thriller-Crime web series with Kay Kay Menon and Arbaaz Khan in the lead role. It is currently streaming at Hoichoi and Jio.
Where to watch season 1 of The Stoneman Murders online?
Cast & Creator
The full cast of The Stoneman Murders includes Kay Kay Menon, Arbaaz Khan, Vikram Gokhale, Rukhsaar Rehman, Virendra Saxena and Ashraful Haque. The show is stacked with the popular stars. Among the lead cast, Kay Kay Menon and Arbaaz Khan have also worked together in The Stoneman Murders in past. Kay Kay Menon has also worked in shows
Special Ops
and movies like Gulaal, Baby and Life In A Metro. Arbaaz Khan has also worked in shows
Poison
and movies like Dabangg, Dabangg and Shootout at Lokhandwala. .
List of Episodes for Season 1
Sneha, an aspiring writer, runs into Baba Jibanananda on a train to Haridwar. Who is he and what are his intentions?
13 Sep '19
While Sneha and Saina take a tour around Haridwar, they are followed by a sadhu. Is he one of Baba Jibanananda's men?
13 Sep '19
S1 E3
.
Before the Murder
Sneha reads the diary she received and tries to solve the mystery behind the infamous murderer called the "Stoneman". Will she find the truth?
13 Sep '19
Sneha looks around for evidence and figures out a possible suspect. Will she go to the police?
13 Sep '19
Sneha meets the investigators of the case. Will they believe in the authenticity of the diary after reading it?
20 Sep '19
S1 E6
.
Friend in Disguise
The Stoneman tries to find a way to tackle Haran, while the police attempt to figure out his motive. Will they uncover his reason for murder?
20 Sep '19
The Stoneman is chased by a gang, as Sneha and Saina are interrogated. Will, the police make a move?
20 Sep '19
While Sneha discusses with Saina about the real identity of the Stoneman, the police locate his address. Will they find him?
20 Sep '19
S1 E9
.
In Search of a Mystery
Stoneman is attacked by a gang, as Sneha discloses her findings to her mother. Will the police catch the Stoneman red-handed?
20 Sep '19