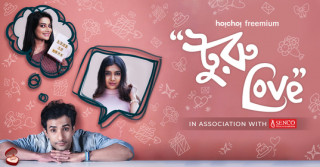 Plot
Aritra, a small town guy, is born with a silver spoon. But his bubble breaks when Tiyasha, his bride-to-be, gives him a reality check prompting him to move to Kolkata and be a self made man. What follows is a misadventure in the search of love & a realisation of what 'Turu Love' actually is.
Turu Love is Bengali Drama web series with Rishav Basu and Rajnandini Paul in the lead role. It is currently streaming at Hoichoi.
Where to watch season 1 of Turu Love online?
You can watch season 1 online here at
Hoichoi
.
Cast & Creator
The full cast of Turu Love includes Rishav Basu, Rajnandini Paul and Ushasi Ray. Rajnandini Paul has also worked in shows
Nokol Heere
and movies like Asur. The creator of the series is Abhijit Chowdhury, who has also created shows
Astey Ladies
,
Eken Jatra
and
Manbhanjan
and films like Bhalobasar Shohor - Paramount.
List of Episodes for Season 1
Aritra travels to Kolkata from Durgapur, to meet his bride-to-be Tiyasha but she discovers something about him that rocks the boat.
12 Feb '21
S1 E2
.
Damini's Peace Haven
While Aritra is struggling in Kolkata, a social media post by Tiyasha shakes his world.
12 Feb '21
S1 E3
.
Best Friends Forever
Vrinda helps Aritra find a unique job. She is moved by Aritra's faith & struggle towards the idea of true love.
12 Feb '21
S1 E4
.
A Desperate Attempt
Vrinda and Aritra fight over Tiyasha when she discovers that Aritra can go to any extent to fulfil a promise to Tiyasha.
12 Feb '21
S1 E5
.
A Promise Fulfilled
Aritra is one step closer to fulfilling his promise. But something's stopping him from taking a decision.
12 Feb '21