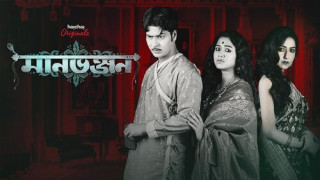 Plot
This hoichoi web series, based on Tagore's timeless tale, Manbhanjan, is a housewife's journey from her home to the world outside, looking for love and identity.
Manbhanjan is Bengali Drama web series with Anirban Bhattacharya and Sohini Sarkar in the lead role. It is currently streaming at Hoichoi and Jio.
Where to watch season 1 of Manbhanjan online?
Cast & Creator
The full cast of Manbhanjan includes Anirban Bhattacharya, Sohini Sarkar and Amrita Chattopadhyay. The show is stacked with the popular stars. Among the lead cast, Anirban Bhattacharya and Sohini Sarkar have also worked together in Vinci Da and Bibaho Obhijaan in past. Anirban Bhattacharya has also worked in shows
Byomkesh
,
Bou Keno Psycho
and
Paanch Phoron
and movies like Ek Je Chhilo Raja, Vinci Da and Eagoler Chokh. Sohini Sarkar has also worked in shows
Judgement Day
,
Break Up Story
and
Pabitra Puppies
and movies like Vinci Da, Phoring and Cinemawala. The creator of the series is Abhijit Chowdhury, who has also created shows
Astey Ladies
,
Eken Jatra
and
Turu Love
and films like Bhalobasar Shohor - Paramount.
List of Episodes for Season 1
S1 E1
.
Manbhanjan part 1
Giribala's youth and beauty can no longer charm her husband Gopinath. While she waits for his love, he runs away with the glamorous actress Labanga.
14 Jun '19
S1 E2
.
Manbhanjan part 2
As a lonely Giribala leaves her house, Gopinath soon gets to know that a new actress has replaced Labanga. But the identity of this actress leaves him shocked.
14 Jun '19